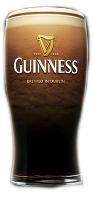 How do I overcome stage fright and be more confident on stage? Guinness!
No not really … for me it's playing as many shows as possible and playing my guitar every chance I get.
Repetition builds my confidence. Getting into my studio and playing through the set list for upcoming UZoo shows, a few times over the course of a couple of weeks, makes all the difference in the world. And when I finally get on stage, I can have fun instead of over-thinking or having to focus on every chord or note.
I call this "burn in." Practice burns the songs into my brain. And not just my brain but also my soul. I get myself to the point where I can recall every nuance of a song, even when there is no music playing. Every string bend, every crack of the snare, the deep synchronized rumblings of the kick drum and the bass guitar—it's all there including the parts I don't play.
Go to the Next Level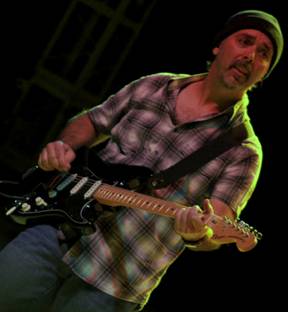 As with life in general, there are and will always be areas where I need to improve and grow as a guitar player.
For now my main focus is improving my ability to play without my eyes. I want to get to the point where I am so connected with my guitar, that as my hands slide across the fretboard I intuitively know exactly where I am.
Yes there is a certain level of connection I already have with my guitar, after all I have been playing since 1972. But that connection can be so much more … to the point that, as I approach a complicated chord progression or solo, I can close my eyes or look at the crowd and enjoy the moment without the distraction of what I am playing.
Get Inspired
As I think about my personal goal, I'm inspired by one guitar player in particular – Jeff Healy.
Jeff was an amazing jazz and blues-rock guitarist and vocalist from Canada who was blind. When he was one year old, Healey lost his sight to retinoblastoma, a rare cancer of the eyes.
He began playing guitar when he was three, developing his unique style of playing the instrument flat on his lap. He attained musical popularity in the 1980s and 1990s and had 10 charting singles in Canada between 1990 and 1994.
Sadly, the disease that took away his sight also took his life in 2008 at the age of 41.
When Jeff played, it was as if he and his guitar were one … and to be honest I can't barely grasp that level of connection.
Jeff Healey – As the Years Go Passing By
[youtube=http://youtube.googleapis.com/v/8ryJaFnO4-0?start=138]
Every time I watch that video I am awe-struck by his phrasing, dynamics, and accuracy. I mean the dude could not see. He played the guitar flat on his lap. And every so often, while he was playing, he had to pull the guitar back onto his lap to prevent it from falling off.
To this day Jeff Healy impresses and inspires me.
Get Some Sleep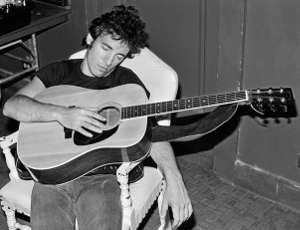 Hello? If you party like it's 2099 every night, all areas of your life will suffer. Your ability to play your instrument well and with confidence is no exception. The brain heals with sleep. The body heals with sleep. I'm not your mother, so enough said.
Play What You Love
You would think the idea of "playing what you love" is a no-brainer. Well it should be, but in reality that is not always the case.
When I was starting my U2 tribute band UZoo, I was looking for musicians passionate about the music of U2. That passion was a requirement to be a part of this band!
The first audition was always a phone call. At times I would be on the phone chatting with some nice guys for over an hour. Personality-wise they would have been a great fit for this band. But as I asked more probing questions, I realized that most of these potential bandmates needed money. They were just looking for work. That is a disaster waiting to happen.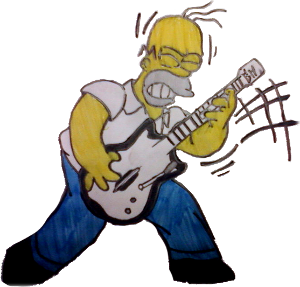 Do yourself and your potential bandmates a huge favor. Play what you love! The result will be more confidence on stage. You and your buddies will have a great time. Your fan base will grow and more opportunities to play will surface.
If you don't play what you love, people will see right through you. Maybe not at first, but over time you will care less and less and it will be clearly visible to the fans and your bandmates. Your rehearsal time will suffer and your confidence on stage will falter.
It's simple really … if you need cash, supplement your gig income with the part-time job of your choice. Do whatever it takes to play what you love. In the end you'll avoid being miserable and making those around you miserable.
What Are You Waiting For?
Get to work!
Practice, practice, practice! Burn the songs you play into your brain and your soul. And not just how you play them on your instrument. Burn in every minor detail of each song, from the drums and bass to tambourine strikes on two and four. This is a great confidence builder.
Identify that one weak spot in your skill set that follows you on stage and messes with your head. Make it a personal goal to master that weakness to the best of your ability. And find someone who will inspire you to meet that goal.
Sleep well (without the use of booze and sleeping aids please)!
Play what you love! If nothing else, you'll leave the stage satisfied with what you accomplished.
And finally, down a Guinness before your show. At the very least, you won't be hungry.
-CS