I've waited a little while to share my thoughts on the new U2 song Ordinary Love.  And as I started writing this blog post, I paused to listen to the song again … actually four more times.
This new song provides me glimpses of the amazing work found on previous U2 records. Bono's vocals are great. The Edge's distinctive guitar tone and jangly, rhythmic hooks pull me in. Sections of this song get me excited about of the good things to come in the upcoming months.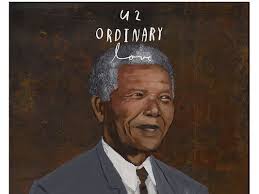 Ordinary Love is a decent song for a movie soundtrack or a B-side. But it is a far cry from any cut found on the groundbreaking Achtung Baby.
"Why on earth would you compare this song to Achtung Baby tracks?" you may ask. Because of the countless, recently published comments that compare the upcoming album to Achtung Baby.
And if this new song is supposed to be an indicator of what we'll hear on the next album, then everyone making that comparison are, to quote Metallica, "off to never-never land."
Take a few seconds to quickly review the Achtung Baby track list. And while you do that, try to hear these songs in your head…
1. Zoo Station
2. Even Better Than the Real Thing
3. One
4. Until the End of the World
5. Who's Gonna Ride Your Wild Horses
6. So Cruel
7. The Fly
8. Mysterious Ways
9. Tryin' to Throw Your Arms Around the World
10. Ultraviolet (Light My Way)
11. Acrobat
12. Love Is Blindness
If the comparisons are right, and God knows I hope they are, then there is no way Ordinary Love comes close to representing what we will hear on the next U2 record, because I don't believe it compares to one song listed above.
Has anyone even said Ordinary Love is a taste of what's to come? Not that I know of, but maybe many of us have been making that assumption. I know I did at first, but then I noticed something.
The songs introduction sounds strangely familiar. That opening keyboard riff … oh wait a minute … that sounds just like the U2 / Green Day collaboration The Saints Are Coming. 
And every time I hear the new song, for some reason I'm reminded of the infamous beach clips from (I think) 2006 – All My Life, Thank You For The Day, Window In The Skies, etc. 
To me, Ordinary Love sounds like a leftover track from the All You Can't Leave Behind or Atomic Bomb sessions that has been updated for the movie soundtrack; Not entirely new, but new to us.
Obviously this is all conjecture and wishful thinking. But if I'm correct, then clearly Ordinary Love does not tells us what the new record will sound like. In which case, maybe the Achtung Baby comparisons will prove true.
Please don't misunderstand me, I'm not bashing the new song. Like I said earlier it's decent. U2 has plenty of decent songs that I love to listen to time and time again.
But expectations for the new album have been set high, five years in the making; a new talented producer; and lot of chatter comparing it to one of the greatest albums in rock music history.
In my opinion Ordinary Love does not meet those expectations and as a result cannot truly represent what's to come.
So like many U2 fans, while I enjoy this teaser called Ordinary Love I wait not so patiently for the the new album that will continue the reign of U2 as the greatest rock band on the planet.
-CS