Led Zeppelin performed six sold-out shows at Madison Square Garden the week of June 7-14, 1977. I was fortunate enough to attend the last two shows that week.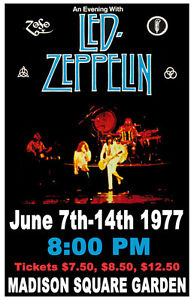 I was a 16 years old beginner guitar player from Douglaston Queens in New York. For the previous two years leading up to those unforgettable concerts, I would spend countless hours in my bedroom after school learning how to play guitar by trying to imitate everything Jimmy Page page did.
I would use cardboard, rubber bands and whatever else I could to slow my turntable down just enough to figure out Jimmy's solos by ear.
I couldn't afford the real sunburst Gibson Les Paul that Jimmy played. So I convinced my best friend to sell me his 1976 sunburst Ibanez Les Paul Custom copy. It was so close to the real deal, that Gibson sued the Elger Company (the distributor of Ibanez instruments in the U.S. at the time) and demanded they stop producing copies of their instruments, specifically their headstocks. I wish I still had that guitar.
More than any other musicians of that day, Jimmy Page and Led Zeppelin were by far my biggest musical influence. And they helped me get though some very dark days.
1977 was a very hard year for my family. Early that year, my 24 year old brother-in-law Dave died in a drowning accident, ten days after his son was born. He was like a big brother to me. Also, my dad became very ill and was in and out of hospitals. I desperately needed a distraction from the fear and sadness.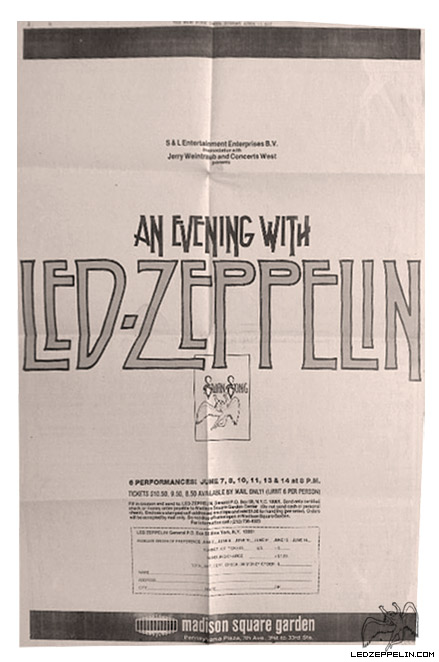 I was working at our family dry cleaner in Bayside Queens for the summer. One day at work my favorite radio DJ, Pat St. John, announced on WPLJ that Led Zeppelin would be performing six nights at Madison Square Garden in New York City. I freaked – I had to get myself a ticket, but how?
There was a lottery drawing for tickets. I managed to get hold of a ticket order form and I was fortunate enough to win a ticket for the second-to-last night, June 13, 1977.
For various reasons, I don't really remember that first night other than being overwhelmed by the excitement of seeing my favorite band and my guitar hero. When the show ended I knew I had to see them one last time. And my only chance would be the following night – June 14, 1977.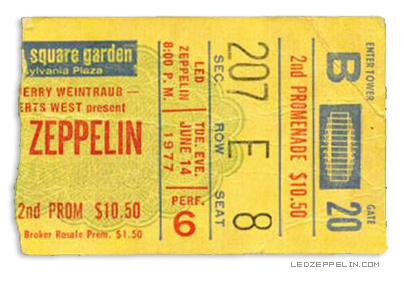 I didn't have a ticket, but the next day I took the 30 minute LIRR train ride from my hometown into Penn Station in New York City with the hopes of buying a ticket on the street. I remember the prices were way more than I could afford and my heart began to sink.
Then I came across some guy who offered me a ticket for $50.00. I told him all I had was $20.00. He told me that he would not sell me the ticket, but that he could get me in for $20.00. That's all I needed to hear. I handed him the cash, he handed me the ticket and then he followed me into the venue.
Once we were through the doors he directed me to a specific ticket-taker and told me to wait for him on the other side. I presented my ticket and the guy pretended to tear it, handed it back to me and let me through. The guy who "sold" me the ticket was right behind me. The ticket taker pretended to rip the scalpers ticket as well and again handed it back. The scalper then approached me, took my ticket and exited the building with both tickets to repeat the process.
So, there I was at a Led Zeppelin concert at Madison Square Garden with no ticket or assigned seating. Now what? I figured my safest bet was the nose-bleed seats. I went up and grabbed any seat I could find. As people showed up I was bounced from seat to seat over the next hour and a half.
Video – Led Zeppelin "The Song Remains the Same"
Madison Square Garden, June 14, 1977
But none of that mattered. Once the show started most of us were on our feet the whole night.
The smell of weed filled the air. The lights dimmed, the crowd went nuts and the band hit the stage. With his Gibson SG double-neck strapped to his body Jimmy starts pounding out "The Song Remains The Same." I was in awe.
Nobody's Fault But Mine, Over the Hills and Far Away, Since I've Been Loving You, No Quarter, Ten Years Gone, Battle of Evermore—the show seemed to go on forever. Robert sounded great. John Bonham's drum solo was beyond epic. And then finally, the opening notes of Stairway To Heaven. The crowd went ballistic.
When the show ended. The New York crowd was out of control waiting for an encore. As the band came out to play a few more songs there was this deafening BOOOOM, a loud explosion that reverberated throughout the venue. The lights go up and Jimmy Page rushes off the stage.
Some guy from the audience threw a lit cherry bomb up onto stage and it went off on Jimmy's right hand. We were all shocked. I was devastated thinking he may never be able to play again.
I remember Robert Plant was furious. He said something like "we will never play in New Your City again" and he walked off the stage The crowd was booing and yelling. I was getting nervous, bracing for a riot. No one knew what was going to happen. It seemed like the show was over but no one left. And about 30 minutes later the band came out, Jimmy's hand wrapped in a bloody cloth. Apparently Jimmy wasn't done and wanted to play some more. I think they finished up with two songs – "Whole Lotta Love" and "Rock and Roll."
Video – Led Zeppelin Concert Montage
Madison Square Garden, June 14, 1977.
What an amazing and crazy night. And it was about to get a little nuttier. As I was leaving I had to visit the mens room. That's when I saw one of the strangest things I had ever seen up to that point in my life. The line was so long that guys got sick of waiting resulting a line of men peeing into the sinks. Welcome to New York circa 1977.
June 14th is the best memory I have of the summer of 1977. Sadly my dad passed away a few weeks later – early July, 1977. The memory of those two concerts, the music of Led Zeppelin and that beautiful Ibanez guitar helped a 16 year old boy from Queens deal with a year of deep loss.