First the good news. According to BillboardBiz, the tentative release date for the new U2 album in sometime in April, 2014.
Now the not-so-good news. According to this New York Times article, Live Nation will be buying Paul
McGuinness's company Principal Management as well Guy Oseary's Maverick which is Madonna's management. McGuinness, who is 62, will will become chairman of Principle Management and Oseary will take over managing the day-to-day operations of U2.
In a statement to the New York Times, Paul McGuinness said: "It could be seen as slightly poor etiquette for a manager to consider retiring before his artist has split, quit or died, but U2 have never subscribed to the rock 'n' roll code of conduct. As I approach the musically relevant age of 64 I have resolved to take a less hands-on role as the band embark on the next cycle of their extraordinary career."
"I am delighted that Live Nation, who with Arthur Fogel have been our long term touring partners, have joined us in creating this powerful new force in artist management. I have long regarded Guy Oseary as the best manager of his generation, and there is no one else I would have considered to take over the day-to-day running of our business."
To quote the double-rainbow guy "what does this mean?"
Well it sounds like new management for U2 and the end of a highly successful 30+ years business partnership between Paul and the four lads from Dublin. And what a partnership it has been.
According to The Edge, Paul's first job for U2 back in 1978 was to get the four under-age lads drinks at Granary Bar.
Paul started financing the band using a jar full of coins where he would dump the change in his pockets. This how he paid for bus fares and other means of transportation this "baby band." He would book gigs; search for record deals; find producers like Brian Eno and negotiate contracts.
And when CBS said they would offer the band a record deal if they dropped Larry, Paul told them to "stuff it!" These are the types things Paul McGuinness did for U2 in the beginning and throughout his 30+ year career.
I'm confident this news does not mean the end of U2. There's no doom-and-gloom here. It's a changing of the guard, a new way for things to be done.
Let's think about what band management does not do. Band management does not write the music, that's the bands job. They do not manage the recording sessions, that's the producer's job. They don't manage the tours, that's the production company's job (in this case Live Nation).
A band management company runs the daily operations so the band members do not have to. They take care of things like paying the bills, signing contracts, arranging personal appearances, booking hotels; the business side of music.
Band management makes it possible for the band members to take care of their creative responsibilities like write and perform music.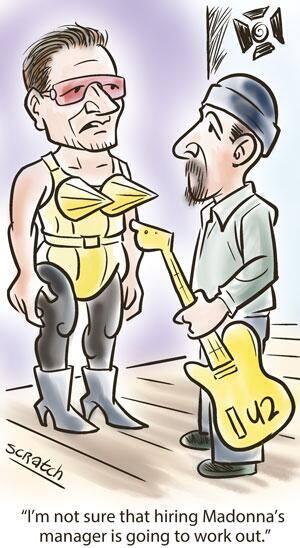 Paul McGuinness has been the reason why Bono can take the time focus on his philanthropic work instead of writing checks and dealing with lawyers. And Guy Oseary will do the same.
I'm don't mean to minimize the scope of this event. It's huge for U2, Paul and the employees of Principal Management. But in the end and over time, not so much for us fans.
This is not the death knell for U2. Remember what Bono said at the 2011 Toronto film festival. That U2 were united by "a kind of belligerent respect" for each other. "We're unemployable, you know, it's like the priesthood, there's only one way out, in a coffin."